New ways of Contacting Outfit Support
How to get in touch with the Outfit Support team
There are three ways you can reach out to the Outfit Support team:
Sending a chat message
Submitting a contact form
Emailing support@outfit.io
Sending a chat message
During business hours, you can chat directly with our Support team by opening Outfit's Help menu (the white '?' icon on the bottom left corner of your screen), then selecting the 'Contact Support' button. Submitting a contact form
When our Support team are offline, the chat messaging widget in the 'Contact support' button will become a contact form. You can submit details of your support request by completing either the:
General Support form: for all general support requests
Critical Issue form: which should only be completed if the issue that you are experiencing is of an extremely urgent nature (e.g. you are unable to export documents) Once one of these forms are submitted, your request will become a support ticket that you can access via email to view and respond to ticket updates. You will receive an email notification for all updates to your support tickets including when tickets are created, commented on, awaiting your reply or resolved.
Similarly to the contact forms, emailing support@outfit.io will also generate a support ticket that you can access via email to view and respond to ticket updates.
How to view all of your support tickets
You can view all your tickets by visiting the 'My Activities' page which will allow you to track and respond to your tickets - we highly recommend bookmarking this page.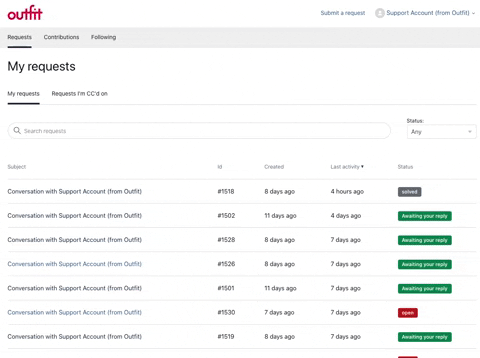 There's also a link to access the 'My Activities' page from your support ticket emails.
FAQ's
Why have we updated our Support channels?

Our support channels have been updated to make it easier for you to track and respond to interactions with Outfit's Support team. It will also provide improved reporting functionality to better understand requests and proactively improve our support resources.
How can I view a chat conversation once a chat session has ended or has been accidentally disconnected?

Soon after a chat has ended, you will receive an email of your chat transcript, and the chat conversation will automatically convert to a support ticket. If you would like to continue an ended chat, we encourage you to comment on the support ticket, rather than starting a new chat conversation. This will avoid creating duplicate tickets on the same topic. As a reminder, your support tickets can be responded to via email or from the 'My Activities' page.